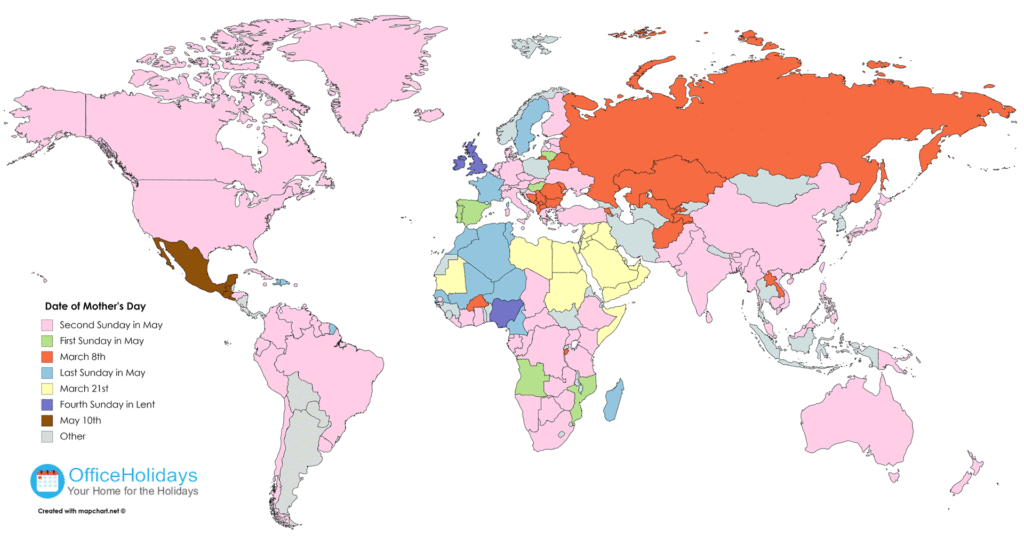 In most countries, Mother's Day takes place on a Sunday and is not a public holiday, so it may seem more low-key than the traditional big holidays; but in terms of revenue spent on gifts, it is said to be the third biggest holiday after Christmas and Easter.
And although many countries observe it on the second Sunday in May, taken from the American custom; that's not always the case. In the chart above, we show which countries observe Mother's Day on certain dates.
An international holiday with regional traditions
Below we take a look at some of the different traditions that relate to Mother's Day around the world.
Brazil
Although not an official holiday, Mother's Day is a popular event in Brazil, second only to Christmas. In this South American country, people gather in churches, where children pray for their mothers, and then celebrate, often with a large barbecue for friends and family.
Bulgaria
In Bulgaria, as in a number of Balkan and Eastern European countries, Mother's Day is celebrated on March 8th, in conjunction with International Women's Day.
China
Mother's Day is becoming increasingly popular in China. In this country, one of the main goals of the holiday was to create a festive mood for poor mothers caring for their families in the countryside.
Egypt
Like most other Arab countries, Mother's Day is celebrated in Egypt on March 21st on the first day of spring. Mother's Day is one of the most popular holidays in Egypt. Restaurants, shops, and hotels operate in a holiday mode, often offering special discounts on this day.
Ethiopia
Mother's Day is a big holiday in Ethiopia and is celebrated on the second Sunday of May. The celebration usually includes large family gatherings and gatherings. Traditionally, daughters bring their mothers vegetables and cheese, while sons bring meat.
India
In India, the tradition of celebrating Mother's Day is relatively new and is gaining in popularity every year. Mother's Day in India is celebrated mainly in cities and urban areas according to the accepted American model and date of celebration. Interestingly their is no major Hindu festival that focuses on Motherhood, unlike siblings who have Rakshan Bandan.
Indonesia
Indonesia is the only country that celebrates Mother's Day on December 22nd. The original purpose of the festival was to celebrate the spirit of all Indonesian women, but these days the festival is dedicated only to mothers. They are presented with flowers and given a day off from household chores.
Israel
In Israel, Mother's Day is celebrated 30 Shvat on the Jewish calendar, which falls between January 30th and March 1st. Israel is one of the few countries where this tradition retains its original meaning without mass commercialization.
Japan
In Japan, Mother's Day has changed several times, but it is currently celebrated on the second Sunday of May. Japan is one of the countries where people wear carnations to honour their mothers, but besides this, the holiday is the same as in the Western world.
Nepal
In Nepal, Mother's Day is called Mata Tirtha Aunsi (means "Pilgrimage of the Mothers of the New Moon"), and is celebrated on the last day of the month Baishah, which falls in either April or May. Traditionally, Nepalis give gifts to their living mothers, and in order to honor the memory of the dead, they go on a pilgrimage.
New Zealand
In New Zealand, Mother's Day is celebrated on the second Sunday of May. Although this event is not a public holiday, Mother's Day is widely observed, with children organising Autumn picnics and giving gifts to mothers.
Philippines
In the Philippines, Mother's Day is officially celebrated every first Monday of December. On this day, Filipino mothers are given time to take care of themselves, to relax, go shopping, etc. All their duties and affairs fall on the shoulders of their adult children or husbands.
Serbia
In Serbia, Mother's Day is part of an important holiday that runs on three Sundays in a row in December. On the eve of Children's Day and after Father's Day, Mother's Day includes a tradition in which mothers are connected until they give treats and small gifts for their children.
Spain
In Spain Mother's Day is celebrated on December 8th. As with other countries that have a large Catholic population, it is closely associated with Mary, the mother of Jesus.
Sweden
In Sweden, Mother's Day is celebrated on the last Sunday in May. The Swedish Red Cross sell small plastic flowers on the days leading up to Mother's Day and the money raised is used to help needy mothers and their children.
Taiwan
Mother's Day in Taiwan is celebrated on the same day as Buddha's birthday.
Mothers' Day around the world
Read about Mother's Day around the world in 2019. Mother's Day is celebrated across the world, in more than 50 countries, though not all countries celebrate it on the same day.